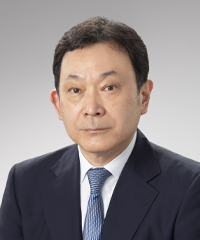 I am honored to be appointed as the 5th chair of the Japan Surgical Society, succeeding Mr. Masaki Mori.
The Society is over 120 years old. I am strongly aware that our mission is to advance surgical science and contribute to the society as we approach our 150th anniversary.
In surgical treatment, balancing between radical cure and non-invasiveness has become the norm, and application of endoscopic surgery has expanded to complex surgical treatment and advanced cancers. Robot-assisted surgery is becoming more accessible, and plans are being made to perform remote surgeries. Genomic medicine was introduced to assess malignant diseases. Pharmacotherapy, including molecular targeted therapy and immunotherapy, is also rapidly evolving. To acquire such advanced and diverse techniques and knowledge, educational projects must be expanded.
In 2022, 9,519 residents were hired in the basic field of specialty training, with 852 (9%) being surgical residents. The percentage of those aiming to be surgeons is slightly declining, making it difficult to retain young surgeons. Residents pursuing a career as surgeons undergo 3 years of surgical training, followed by training in surgical subspecialties. Implementation of cross-training opportunities allowed the residents to focus on their areas of interest during their basic training. This is made possible by the close cooperation among six subspecialties (gastroenterological surgery, cardiovascular surgery, respiratory surgery, pediatric surgery, breast surgery, and endocrine surgery). On the contrary, we need to examine an objective evaluation-feedback method for the level of techniques and knowledge achieved by residents regardless of the number of clinical treatments administered. Based on the Work Style Reform, we will work toward establishing a higher-level training environment where residents can acquire techniques, knowledge, and attitude while maintaining their work–life balance.
The former chair, Mr. Masaki Mori, was also focused on improving the work environment system by providing incentives, promoting task shifting, and working on claims policy so that the surgeons could continue their practice comfortably. By providing "comfortable working condition" we can confidently invite younger generations into surgical departments. We will continue to focus on making the work environment for surgeons more appealing to foster future generations.
The format of academic meetings has changed because of the COVID-19 pandemic. Since 2020, with the efforts of chairmen, members have been able to participate in academic meetings either on-site or online. A questionnaire conducted for the Society revealed a strong support for the hybrid method for training convenience, so it will most likely continue. The Society is considering purchasing a distribution infrastructure. We are examining whether an adequate space for discussion can be created for online participants using social media and other social-networking platforms.
The number of female members of the Society is increasing every year. Currently, 10.3% of members are females. The board is actively considering improving the work environment for female physicians and increasing opportunities in the Society and committees. We will raise awareness of diversity promotion in order to improve the environment for diverse surgical departments as well as for female physicians. In terms of the Society's operations, we would like to hear opinions from female and young physicians.
The topics discussed above are based on the projects completed by previous chairs, boards, and representatives. I discussed the issues that must be addressed first in order to keep up with the changes in society and time.
We will continue to work toward a solution while listening to opinions of members.
We appreciate your guidance.
Introduction of the chair
Name: Norihiko Ikeda
Affiliation: Tokyo Medical University Division of Thoracic & Thyroid Surgery (the chair)
Field of expertise: respiratory surgery, surgical treatment of lung cancer, etc.
Abbreviated biography:
1986: Graduated from Tokyo Medical University School of Medicine
1986: Admitted to Tokyo Medical University Department of Surgery
1990: Completed the graduate program at Tokyo Medical University
1993: Studied abroad at University of British Columbia, Canada
2002: Lecturer, Tokyo Medical University Department of Surgery 1
2005: Professor, International University of Health and Welfare, Mita Hospital, Department of Respiratory Surgery
2008: Chair, Tokyo Medical University Department of Surgery 1 (presently, Division of Thoracic & Thyroid Surgery)
As a member:
Joined the Society on August 23, 1986
Appointed as a representative on February 16, 2010
Appointed as a board member on April 04, 2018
(Served as NCD liaison committee chair, general affairs committee chair, COVID-19 countermeasure committee chair, specialist system deputy chair, English journal editing deputy chair, future planning deputy chair, etc.)
Appointed as the deputy chair on April 22, 2020
Appointed as the chair on April 14, 2022